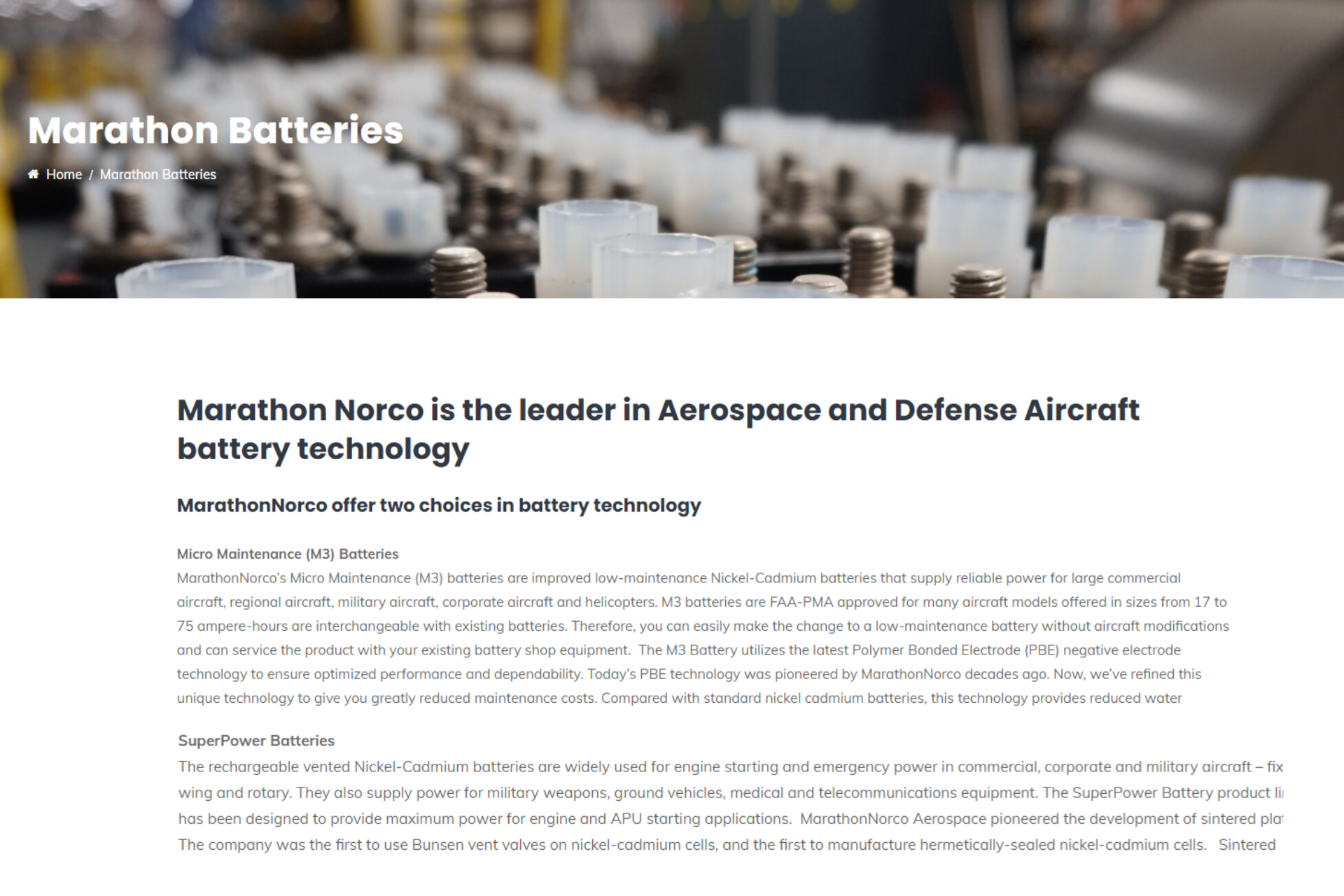 A new website and digital home
MarathonNorco Aerospace announced today the launch of its new website at www.marathonnorco.com. The new website features the full product catalog of MarathonNorco products, including Marathon Batteries, Christie chargers and Norco mechanical products, as well as a bold look.  The new website offers customers, engineers, and specifiers expanded information about MarathonNorco's world-class manufacturing, quality, design, testing, and support solutions.  The upgraded site includes changes to navigation and the structure of content, so finding information is easy and initiative. The new site is designed to provide users with an exceptional digital experience whether they consume MarathonNorco content on a desktop, tablet or mobile phone.
"Our customers will be able to find detailed information about our products and access documents that help them specify, use and maintain them.  Our new website will be ever-expanding so users should check back often to see what additional capabilities we have added since their last visit.   Job applicants can also explore our open positions and apply for positions right on our website. We are excited about our new website and the new capabilities it brings." said Zion Dunn, President of MarathonNorco.
To learn more about MarathonNorco please visit us at www.marathonnorco.com.
About MarathonNorco Aerospace –
Founded in 1923, MarathonNorco Aerospace has successfully served commercial and defense aviation markets with reliable cost effective electrical power and mechanical structure products.  We continue to provide a total solution to aircraft power needs from engine, APU starting, emergency power, to ground support and battery maintenance.  MarathonNorco Aerospace designs and manufactures Nickel-cadmium batteries and chargers, engine nacelle hold-open rods and a range of mechanical couplings and connectors.  We are committed through the implementation of AS9100-D to continuous improvement activities that help us supply our customers with the highest quality, value engineered products available, delivered on time and defect free. Our brands include Christie™ Chargers, Marathon™ Batteries, and Norco ™ mechanical products.  The company is based in Waco, TX and is an operating unit of the TransDigm Group.